Editor Profiles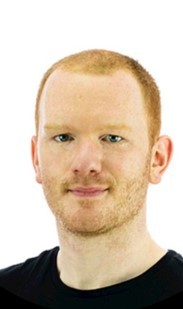 Darren Byrne is an Editor for the BMC Series and has been the Editor of BMC Neurology since July 2019.
Darren did his BA in Psychology at the National University of Ireland, Galway. Following this he did an MA in Criminology and Criminal Justice King's College London. After this he did an MSc in Neuroscience with Psychiatric Genetics at King's College London. He then did a PhD in Neuroscience in the Centre for Developmental Neurobiology, King's College London studying experience-dependent neural plasticity. Darren joined BMC in October 2018 as a locum editor after finishing his PhD and became a manuscript editor in March 2019.
Ana is Manuscript Editor for the BMC series, and has been with BMC Neurology since September 2019. Prior to joining BioMed Central, Ana was a post-doctoral researcher at the University College Cork and the National Suicide Research Foundation developing a program to improve the mental health services and reduce the number of suicides in Ireland. Ana started her career in science investigating the psycho-pharmacological effects of plant extracts on animal models of anxiety and depression. She completed her PhD in Pharmacology with emphasis in Neuroscience at the Federal University of Santa Catarina, Brazil, investigating the effects of muscarinic receptor activation on adult hippocampal neurogenesis. Previously she worked as lecturer of Neuroscience, Psycho-pharmacology and Behavioural genetics to Psychology students in Brazil.
Kelda is Manuscript Editor for the BMC series, and has been with BMC Neurology since March 2020. She started her research career with a BSc at Bangor University, where she investigated how we use our hands and hand-held tools in 3D space. Kelda went on to do an MSc in Research Methods in Psychology at University College London. Following this, she did a PhD at Birkbeck, investigating somatosensory representations of the hands and feet.
Janelle joined the BMC series as an Assistant Editor in 2017. She earned a Bachelor's in Psychology and a Master's in Neuroscience from the University of Hartford.
Neurocritical care
Andreas Meisel is Professor of Neurology at the NeuroCure Clinical Research Center, Director of the Center for Stroke Research in Berlin and chairman of the Berlin Stroke Alliance. He is heading the Integrated Myasthenia Gravis Center and senior physician at the NeuroIntensive Care Unit at the Department of Neurology, Charité University Medicine in Berlin. His current research is in the field of stroke-induced immunodepression and its functional relevance for brain and body. He investigates endogenous mechanisms of brain protection. Moreover, he aimed at developing novel strategies for treatment and care of myasthenia gravis.

Neuromuscular disorders and peripheral neurology
Jens Schmidt, MD, FEAN, is consultant and professor of Neurology at the Department of Neurology in Göttingen, Germany. He is head of the Muscle Immunobiology Group and Speaker of the Neuromuscular Center at the University Medical Center Goettingen. His research interest encompasses a wide range of experimental Neuroimmunology as well as clinical and translational Neurology. Prof. Schmidt has co-authored numerous high ranking research articles in these fields. He was trained in Wuerzburg, Southampton, Guildford, and London and has worked at the National Institutes of Health in Bethesda, USA. Prof. Schmidt is member of all relevant national and international professional societies in the field of Neuroimmunology and Neuromuscular disorders. Prof. Schmidt serves on international advisory boards and steering committees in the field of myositis. He has won several national and international prizes for his research in Neuroimmunology and Neuromuscular Disorders.
Epilepsy
Dr Ravindra Kumar Garg is presently working as Professor and Head in the Department of Neurology of King George Medical University Lucknow India. His areas of interest are epilepsy and CNS infections like central nervous system tuberculosis, neurocysticercosis, subacute sclerosing panencephalitis and leprosy. He has done extensive research work during last 25 years. He has published many publications in his areas of interest. His articles have extensively been quoted in world literature. He is in reviewer/ editorial panel of more than 100 journals. He is an active member of many societies and received many orations/awards.
Cerebrovascular disease and stroke
Szabolcs Szatmári received his MD (1986) and ​​​​​​​PhD (2003) degrees at University of Medicine and Pharmacy Tirgu Mures, Romania. He is neurologist since 1994 and now he is the head of the 2nd Clinic of Neurology in the County Clinical Emergency Hospital Tirgu Mures and Assoc. Professor at the Dep. of Neurology at the University of Medicine and Pharmacy Tirgu Mures. He is also visiting professor at the University of Debrecen Faculty of Medicine, Hungary. He is member of the Cochrane Dementia and Cognitive Improvement Group realizing two reviews: vinpocetine and procaine for dementia. He was studying and his special interests are the stroke care, risk factors and outcome, vascular cognitive impairment, dementia. He joined the Editorial Board as associate editor early in the year 2014 and he is section editor from the end of 2015.