Research article
Open Access
Open Peer Review
This article has Open Peer Review reports available.
Treatment of multiple system atrophy using intravenous immunoglobulin
Received: 21 January 2012
Accepted: 30 October 2012
Published: 1 November 2012
Abstract
Background
Multiple system atrophy (MSA) is a progressive neurodegenerative disorder of unknown etiology, manifesting as combination of parkinsonism, cerebellar syndrome and dysautonomia. Disease-modifying therapies are unavailable. Activation of microglia and production of toxic cytokines suggest a role of neuroinflammation in MSA pathogenesis. This pilot clinical trial evaluated safety and tolerability of intravenous immunoglobulin (IVIG) in MSA.
Methods
This was a single-arm interventional, single-center, open-label pilot study. Interventions included monthly infusions of the IVIG preparation Privigen®, dose 0.4 gram/kg, for 6 months. Primary outcome measures evaluated safety and secondary outcome measures evaluated preliminary efficacy of IVIG. Unified MSA Rating Scale (UMSARS) was measured monthly. Quantitative brain imaging using 3T MRI was performed before and after treatment.
Results
Nine subjects were enrolled, and seven (2 women and 5 men, age range 55–64 years) completed the protocol. There were no serious adverse events. Systolic blood pressure increased during IVIG infusions (p<0.05). Two participants dropped out from the study because of a non-threatening skin rash. The UMSARS-I (activities of daily living) and USMARS-II (motor functions) improved significantly post-treatment. UMSARS-I improved in all subjects (pre-treatment 23.9 ± 6.0 vs. post-treatment 19.0±5.9 (p=0.01). UMSARS-II improved in 5 subjects, was unchanged in 1 and worsened in 1 (pre-treatment 26.1±7.5 vs. post-treatment 23.3±7.3 (p=0.025). The MR imaging results were not different comparing pre- to post-treatment.
Conclusions
Treatment with IVIG appears to be safe, feasible and well tolerated and may improve functionality in MSA. A larger, placebo-controlled study is needed.
Keywords
Multiple System AtrophyFinal VisitWhite Matter VolumeIVIG TreatmentPrimary Immunodeficiency Disease
Background
Multiple system atrophy (MSA) is a sporadic late-onset progressive neurodegenerative disorder [1]. The prevalence of MSA is 1.9 to 4.9 in 100,000 people [2, 3]. MSA predominantly affects the central nervous system and results in a combination of parkinsonism, cerebellar syndrome, and dysautonomia with orthostatic hypotension. The disease progresses relatively rapidly with a mean survival of 6 to 9 years. Pharmacological management remains limited, and at present, there are no therapies that modify disease progression [4].
MSA is predominantly a white matter disease that is associated with widespread myelin degeneration and secondary neuronal loss [5]. The neuropathological hallmark of MSA is the presence of oligodendroglial cytoplasmic inclusions [6] (glial cytoplasmic inclusions) staining positively for α–synuclein [7]. Additional feature of MSA is aggregation of the filamentous α–synuclein in the neurons in several brain regions. It is believed that α–synuclein play a major role in MSA since α–synuclein aggregation occurs in the oligodendroglia and neurons in its early stages [8].
The cause of MSA remains unknown. Several lines of evidence suggest that inflammation could contribute to neurodegeneration in MSA [9–11]. Microglia are the primary immune effector cells in the brain. Activated microglia can mediate the tissue injury through secretion of toxic cytokines, complement proteins, and free radicals that can lead to the degeneration of myelin, axonal dysfunction, and neuronal death. Activation of microglia [9–11] and upregulation of several inflammatory genes [12] have been described in patients with MSA.
Intravenous immunoglobulin (IVIG) has anti-inflammatory properties with multiple mechanisms of action. IVIG inhibits autoreactive T cells, suppresses autoantibodies through anti-idiotypic interactions and interferes with the production of cytokines [13]. IVIG is effective in the treatment of several autoimmune or neuroinflammatory disorders.
This pilot clinical trial was based on the hypothesis that the neuroinflammatory activity in MSA can be altered by using IVIG. Preliminary results were presented in abstract form [14].
Results
Twelve subjects were screened, three subjects failed to meet the inclusion criteria, nine participants were enrolled in the study, and seven completed the protocol. Demographic characteristics and medications are in the Table 1. The disease duration was calculated from the onset of the first symptoms, which proceeded the time of diagnosis. IgA deficiency was ruled out in all subjects.
Medications
There have been some changes in medications in spite of efforts not to change any medication for the trial duration. Subject #4 discontinued proamatine and fludrocortizone because of subjective improvement. Subject #3 discontinued levodopa because of questionable efficacy. The neurologist treating subject # 2 increased the dose of ropinirole because of worsening of parkinsonism.
Adverse Events
There were 42 IVIG infusions. No serious AEs were observed and most of subjects tolerated the treatment protocol well.
Safety
Table
2
summarizes the frequency of non-serious adverse symptoms observed for all infusions. There were 43 infusional AEs. However, excluding BP-related infusional AEs, there were 11 infusional AEs (frequency of occurrence 26.2%). There were additional 18 AEs that occurred beyond 72 hour limit (frequency of occurrence 42.8%). The most common infusional AE was an immediate and transient elevation of the systemic blood pressure (BP). 100% subjects (occurrence 33 times out of 42 infusions) experienced an increase of systolic BP ≥ 20 and diastolic BP ≥10 mg Hg at least once. The BP elevation usually occurred within minutes of the infusion onset, necessitating a reduction in the infusion rate, changes of position more upright, interruption of infusion and/or allowing the patient to void. ANOVA showed a significant increase in systolic BP (p=0.05, mean±sd systolic BP 129.1±32.4 mmHg before infusions, 159.0±25.8 mm Hg highest systolic BP during infusions), but the increase in diastolic BP was not significant (p=0.20, diastolic BP 79.1±16.5 mmHg before infusions, 88.6±13.8 mm Hg highest diastolic BP during infusions). Skin rash was the second most common AE. Two subjects withdrew from the study because they experienced a skin rash during or immediately (minutes) after IVIG infusions.
Table 2
Characterizations of adverse events
| | Type | No | Subjects | R | Comments |
| --- | --- | --- | --- | --- | --- |
| 1 | Elevated BP | 7 | 7 | I | Transient, responding to adjusting the infusion rate |
| 2 | Accidental injury | 1 | 1 | N | After It4, nose fracture |
| 3 | UTI | 1 | 1 | N | After It5, treated with antibiotics |
| 4 | Pruritic skin rash | 4 | 3 | I | 2 subjects withdrew from the study. In these subjects, one subject experienced rash after It1 and second after It2. 1 subject experienced rash after I4 and I5 and was treated with Diphenhydramine, Acetaminophen and oral Prednisone |
| 5 | Increased temperature and/or skin flushing | 5 | 1 | I | Treated with Diphenhydramine, Acetaminophen, and slowing the infusion rate |
| 6 | RLS | 1 | 1 | N | Diagnosed after It4, treated with iron supplements |
| 8 | Decreased GFR | 1 | 2 | N | After It5 and It6, resolved |
| 9 | Ankle edema | 1 | | N | After It5, treated with diazide diuretics |
| 10 | Elevated BUN | 1 | 1 | N | After It5, started trial with elevated BUN at screening visit, resolved |
| 11 | Worsening of allergies | 2 | 1 | N | Worsening of running nose and cough after It5 and It6, also associated with cold and fever after It6, treated with Acetaminophen, Pseudoephedrine, and Diphenhydramine. |
| 13 | Nodular lung abnormality | 1 | 1 | N | Later determined to be abnormal tangle of veins, probably since birth |
| 14 | Low potassium | 1 | 1 | P | After It1, treated with increased dose of potassium |
| 15 | GI viral infection | 1 | 1 | N | After It5, treated with fluids, antiemetics and anti-diarrheal agents |
| 16 | Elevated PSA | 1 | 1 | N | Before It1, resolved |
| 17 | Wrist strain | 1 | 1 | N | After It1, resolved |
| 18 | Worsening of sleep apnea | 1 | 1 | N | After It2, prrescribed CPAP |
Functional measure
UMSARS-I was improved in all 7 subjects (Figure
1
) (p<0.01). UMSARS-II improved in 5 subjects (p<0.025), was unchanged in 1 subject and was worse by 1 point in 1 subject who had developed a severe cold a few days before the final visit. Comparison of the final-visit and the baseline-visit ratings shows a significant decrease in UMSARS-I (p=0.0128) and UMSARS-II (p=0.025). The differences in UMSARS-III (systolic BP p=0.67, diastolic BP p=0.45) and UMSARS-IV (p=0.36) were not significant. C-reactive protein levels did not change with treatment (p=0.25).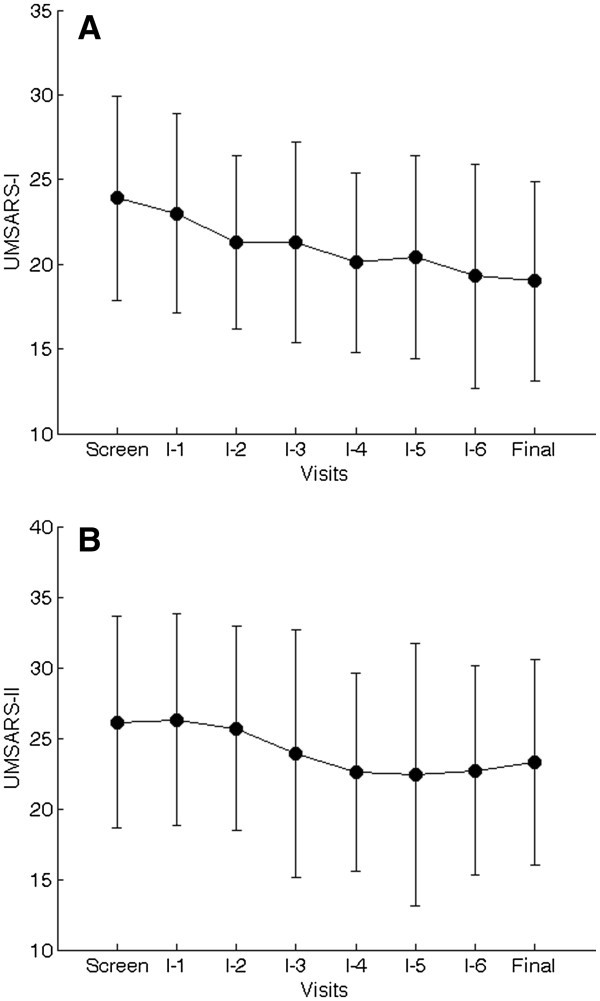 Imaging did not show differences in gray and white matter volumes in post treatment MSA subjects. As compared to controls, MSA subjects had lower gray matter volume (p<0.05) in cerebellum, putamen and hippocampus bilaterally. White matter volume was increased (p<0.05) in the frontal lobe bilaterally, right parietal lobe, right superior temporal gyrus, left middle temporal gurus, cerebellum and putamen bilaterally. There were no significant differences in volumes compared before and after interventions.
Discussion
This pilot open label study investigated the safety and preliminary efficacy of using IVIG over a 6-month period for treatment of MSA. IVIG treatment was well tolerated. Post-treatment functional assessment showed promising improvement of many areas of daily living activities. IVIG infusions were acutely associated with increase in blood pressure, but post-treatment orthostatic hypotension did not change significantly. Imaging studies have shown brain and cerebellar atrophy.
No serious AEs occurred as a result of the total 42 IVIG infusions. Previously reported AEs associated with IVIG, such as renal failure and thromboembolic events, did not occur in our cohort. Minor AEs are common with IVIG treatment and range from 2% to 25% per infusion [24, 25]. The most commonly reported AE'-associated with Privigen® is headache, which occurs in 65% of patients [21]. No headaches were observed in our group. Skin reaction occurs rarely with IVIG. In our study two subjects developed pruritic rash and they withdrew for safety reasons. It is likely that rash in one subject was not related to IVIG because it persisted beyond 3 months after the last infusion, and then it was reassociated with a food allergy. The most common AE in our study was elevated BP, which occurred in all of the subjects. This appears to be an MSA-specific effect of IVIG or Privigen® since, to our knowledge, this is the first study reporting transient elevation of the BP due Privigen® infusions. Previous studies utilizing Privigen® observed infusion induced hypotensive reactions [24–26]. However a transient BP elevation was reported with other IVIG preparations. In our cohort, elevated BP declined when the infusion rate was slowed down, or position changed from supine to semi recumbent or sitting or both. Allowing a subject to void was another effective maneuver to reduce BP.
The mechanisms leading to IVIG-induced BP elevation are unclear. BP changes were typically observed minutes after starting infusions rendering the effect of volume expansion unlikely. It also is unlikely that sensitization to IVIG plays a role in BP elevation because BP elevation occurred during the first infusion in six of seven participants. Possible mechanisms include the effect of a yet-to-be-determined substance in IVIG or a specific substance in Privigen®. Possible candidates are cytokines, vasoactive substances or other proteins, or L-prolin that is unique to Privigen®. MSA patients can have denervation hypersensitivity that can render them more sensitive to vasoactive substances in Privigen®. It is of interest to elucidate Privigen®-induced mechanisms of BP elevation given that, in general, treatment of hypotension in MSA can be difficult.
CRP as a marker of systemic inflammation did not change significantly following IVIG treatment. The main reason why the expected reduction of CRP was not observed in our trial was the fact that two subjects experienced viral infection at the final visit that increased CRP dramatically. Without these 2 subjects, the mean CRP would be reduced at the end of the trial compared to baseline.
Because a biomarker of MSA is not available, the UMSARS was chosen as a proxy for the disease stage. At present, UMSARS is the best instrument for evaluation of disease severity and disease progression [16]. Baseline UMSARS scores in our study are similar to those of a progressive observational study by the North American MSA Group of 67 patients [27]. In that study the average increases of the UMSARS score for part I and part II were equal to 3.1 and 4.5 points over 12 months. However, the European MSA study group [28] showed a faster progression of MSA as indicated by the increase in UMSARS-I by 6.7 points and UMSARS-II by 9.6 points over 12 months. In our study, group averages showed decreases in the part I and part II scores. These results are encouraging, given that current therapies for MSA are only symptomatic.
This pilot trial was open label and therefore a placebo effect cannot be ruled out. Investigators who evaluated the UMSARS (PN, PR) were not blinded to the intervention, and so the rating could be biased. Only a larger placebo-controlled double-blinded study can effectively delineate the role of IVIG in the treatment of MSA. However, Privigen® appears to have a profound immediate effect on BP, as discussed above. This fact can complicate the blinding of future studies since BP responses to infusions can distinguish the interventions from placebo. On the other hand, there was no significant difference in systemic BP on UMSARS-III based on a comparison of screening rating and the final visit rating suggesting that hypertensive effect of Privigen® is transient and therefore theoretically should not "mask" the putative disease-modifying effect. This fact is important to consider since what appears to be a slowing of disease progression could be due to symptomatic drug affect.
The effect of IVIG on MSA remains to be clarified. The present study design was based on the assumption that brain inflammation contributes to MSA. Furthermore, IVIG enters the central nervous system only if the blood brain barrier (BBB) is disrupted [29]. Although measurement of the extravasation of IVIG was never performed in MSA, BBB is impaired in MSA [30, 31] including at basal ganglia and at similar areas that show activation of microglia [32]. However, it is not clear whether the disruption of blood brain barrier is necessary for IVIG to be effective with MSA. Alternatively, IVIG could exhibit its effect on systemic modulation of the immune system.
The imaging portion of the study showed significant differences in particular brain areas of MSA subjects as compared with controls. Our results are similar to those of previous studies [33–35]. Our MSA patients had reduced gray matter volume mainly in cerebellum and putamen and increased in hippocampus. White matter volume was increased in frontal lobe, putamen, cerebellum and hippocampus. The significance of the increase of the white matter remains unclear. It may simply reflect that proportionally more gray matter was lost than true enlargement of the white matter.
We also compared volumes before and after the treatment 8 months apart. There was no significant difference in any of the analyzed variables. Previous studies [33–35] showed interval progression in atrophy of brain tissue. For example, annualized rates of atrophy of MSA, parkinsonian variant, are 1.0% for the whole brain (controls 0.4%) but can be as high as 4.5% in the pons (controls 0.2%) or 3.2% in cerebellum (controls 0.3%). In our study, the volumes did not change between the pre- and post-treatment evaluations. However, our imaging comparison interval was shorter (8 months versus 1 year). These findings are also encouraging but need to be validated in larger studies with longer follow up.
Conclusion
Treatment with IVIG appears to be feasible and well tolerated. However a larger, placebo-controlled study is needed to further evaluate a benefit to risk ratio with the use of IVIG in treatment of MSA.
Declarations
Study funding
The Langer Family Charitable Foundation, Chirag Foundation Investment
Trust, Baker's MSA fund and Mr. Yash R. Puri.
ClinicalTrials.gov identifier NCT00750867.
Authors' Affiliations
(1)
Department of Neurology, University of Massachusetts Medical School, Worcester, USA
(2)
Clinical Trials Unit, University of Massachusetts Medical School, Worcester, USA
(3)
Department of Radiology, Harvard Medical School, Boston, USA
(4)
Department of Radiology, The Ohio State University, Columbus, USA
(5)
Division of Gerontology, Beth Israel Deaconess Medical Center, Harvard Medical School, Boston, USA
Copyright
© Novak et al.; licensee BioMed Central Ltd. 2012
This article is published under license to BioMed Central Ltd. This is an Open Access article distributed under the terms of the Creative Commons Attribution License (http://creativecommons.org/licenses/by/2.0), which permits unrestricted use, distribution, and reproduction in any medium, provided the original work is properly cited.