Debate

Open Access

Open Peer Review
This article has Open Peer Review reports available.
Quality of Life as an outcome in Alzheimer's disease and other dementias- obstacles and goals
Received: 2 April 2009
Accepted: 25 August 2009
Published: 25 August 2009
Abstract
Background
The number of individuals at risk for dementia will probably increase in ageing societies as will the array of preventive and therapeutic options, both however within limited economic resources. For economic and medical purposes valid instruments are required to assess disease processes and the efficacy of therapeutic interventions for different forms and stages of illness. In principal, the impact of illness and success of an intervention can be assessed with biomedical variables, e.g. severity of symptoms or frequency of complications of a disease. However, this does not allow clear judgement on clinical relevance or comparison across different diseases.
Discussion
Outcome model variables such as quality of life (QoL) or health care resource utilization require the patient to appraise their own well-being or third parties to set preferences. In Alzheimer's disease and other dementias the evaluation process performed by the patient is subject to the disease process itself because over progress of the disease neuroanatomical structures are affected that mediate evaluation processes.
Summary
Published research and methodological considerations thus lead to the conclusion that current QoL-instruments, which have been useful in other contexts, are ill-suited and insufficiently validated to play a major role in dementia research, decision making and resource allocation. New models integrating biomedical and outcome variables need to be developed in order to meet the upcoming medical and economic challenges.
Keywords
Dementia
Dementia Patient
Standard Gamble
Mild Cognitive Impairment Patient
Utility Measure
Background
Prevalence of Alzheimer's disease and other dementias increase in the aging societies of the Western hemisphere. This puts an ever increasing burden on the health care systems. Considering increasing treatment options over almost the whole spectrum of diseases effective spending of the resources of health care systems is warranted to provide a fair if not comprehensive care. Hence payers, physicians and patients will need to weigh costs and benefits of future interventions much more carefully. The "burden of illness" and "quality of life" convey greater meaning and more direct relevance across a wide spectrum of diseases and illnesses than abstract clinical or scientific parameters, and such dimensions will gain greater appeal for a larger community involved in future decisions.
Biomedical measures are appropriate to determine the consequences of disease on specific medically relevant symptoms. For oncological diseases this may include the size of the tumor or the number and region of metastases. In order to assess the impact on the patient's everyday life these biomedical measures need to be supplemented by other measures relating to everyday life such as the quality of life or pain. For dementing disorders specific symptoms of disease such as cerebral atrophy can be measured in much the same way as the size of a tumor. Beyond this, several symptoms of dementia, e.g. the impairment of memory, can be measured with standardized instruments, whose relevance for everyday life is obvious. Over the course of Alzheimer's dementia the burden of disease is not primarily reflected by diminishing cognitive functions of patients, but also by a variety of behavioural problems and physical handicaps. There is, however, a great deal of heterogeneity regarding the manifestation of, and the coping with these non-cognitive symptoms. Therefore more comprehensive instruments are required to take account of such causes and their effects within the context of family or professional care.
Quality of Life (QoL) measurements require the patient's self-assessment of his or her fulfilment and impairment in everyday life. Sometimes seemingly negligible causes lead to major handicaps, and severe changes regarding the quality of life and resource usage, whereas severe medical problems need not be associated with apparent subjective consequences. These observations suggest that data on subjective relevance and economic outcomes should be included in clinical studies in order to prepare the ground for future cost-effectiveness models which will need to include the subjective and social impact of illness and interventions. [1].
We will address several moot points regarding the use of "quality of life" and other concepts and instruments, which have been developed for other target groups, but are now employed in the context of dementia. We hope to prevent premature conclusions based on the uncritical administration of such scales in patients with dementia, and we argue for the development of adequate tools.
Summary
We conclude that current outcome model variables, especially quality of life measures, are well suited and established for non-dementing diseases but at present are not fully suited to be rested upon in medical or health economic analyses of disease impact or therapeutic interventions in the dementias. The function of representation of objective measures as obtained by biomedical assessments or proxy measures in their relation to everyday life or instruments of quality of life assessments is elusive, yet (Figure
1
). In consideration of the increasing prevalence of Alzheimer's disease and other dementias in old age an integrative model of biomedical and outcome model variables is warranted to face the upcoming medical and health economic challenges.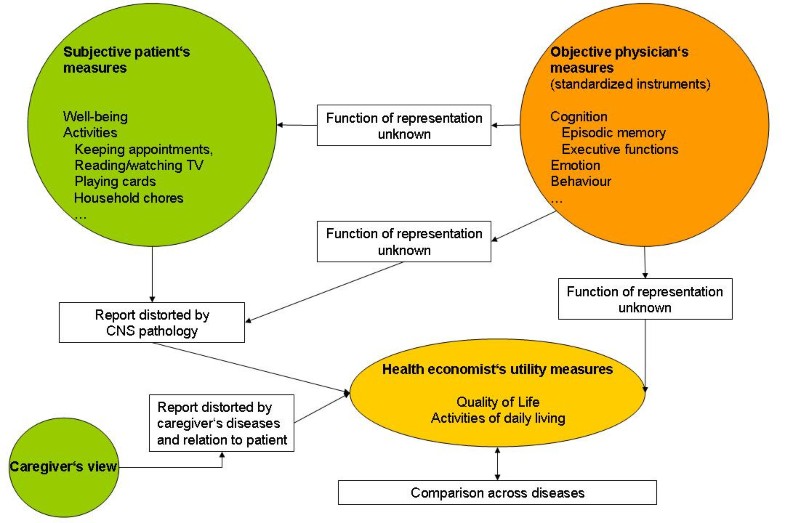 Authors' Affiliations
(1)
Department of Psychiatry and Psychotherapy II, Mental Health & Old Age Psychiatry, Ulm University, Ulm, Germany
(2)
Center for Health Economics, Leibniz University Hannover, Hannover, Germany
(3)
Department of Psychiatry and Psychotherapy, Technische Universität München, Munich, Germany
(4)
Department of Geriatric Psychiatry, Central Institute of Mental Health, Medical Faculty Mannheim, University of Heidelberg, Mannheim, Germany
(5)
Neurological Research Institute Düsseldorf, Düsseldorf, Germany
(6)
Institute for Health Economics and Health Care Management, Helmholtz Zentrum München, Munich, Germany
Copyright
© Riepe et al; licensee BioMed Central Ltd. 2009
This article is published under license to BioMed Central Ltd. This is an Open Access article distributed under the terms of the Creative Commons Attribution License (http://creativecommons.org/licenses/by/2.0), which permits unrestricted use, distribution, and reproduction in any medium, provided the original work is properly cited.