Study protocol

Open Access

Open Peer Review
This article has Open Peer Review reports available.
The effect of computer-based cognitive flexibility training on recovery of executive function after stroke: rationale, design and methods of the TAPASS study
Received: 1 April 2015
Accepted: 31 July 2015
Published: 20 August 2015
Abstract
Background
Stroke survivors frequently suffer from executive impairments even in the chronic phase after stroke, and there is a need for improved rehabilitation of these functions. One way of improving current rehabilitation treatment may be by online cognitive training. Based on a review of the effectiveness of computer-based cognitive training in healthy elderly, we concluded that cognitive flexibility may be a key element for an effective training, which results in improvements not merely on trained tasks but also in untrained tasks (i.e., far transfer). The aim of the current study was to track the behavioral and neural effects of computer-based cognitive flexibility training after stroke. We expected that executive functioning would improve after the cognitive flexibility training, and that neural activity and connectivity would normalize towards what is seen in healthy elderly.
Methods/design
The design was a multicenter, double blind, randomized controlled trial (RCT) with three groups: an experimental intervention group, an active control group who did a mock training, and a waiting list control group. Stroke patients (3 months to 5 years post-stroke) with cognitive complaints were included. Training consisted of 58 half-hour sessions spread over 12 weeks. The primary study outcome was objective executive function. Secondary measures were improvement on training tasks, cognitive flexibility, objective cognitive functioning in other domains than the executive domain, subjective cognitive and everyday life functioning, and neural correlates assessed by both structural and resting-state functional Magnetic Resonance Imaging. The three groups were compared at baseline, after six and twelve weeks of training, and four weeks after the end of the training. Furthermore, they were compared to healthy elderly who received the same training.
Discussion
The cognitive flexibility training consisted of several factors deemed important for effects that go beyond improvement on merely the training task themselves. Due to the presence of two control groups, the effects of the training could be compared with spontaneous recovery and with the effects of a mock training. This study provides insight into the potential of online cognitive flexibility training after stroke. We also compared its results with the effectiveness of the same training in healthy elderly.
Trial registration
The Netherlands National Trial Register NTR5174. Registered 22 May 2015.
Keywords
Stroke
Cognitive flexibility training
Computer-based training
Online testing
Rehabilitation outcome
Executive functions
Cognitive control
Randomized controlled trial
Cognition
Structural and functional Magnetic Resonance Imaging (MRI and fMRI)
Background
There is a great need for cognitive rehabilitation after stroke (i.e., brain hemorrhage or infarct). More than half of stroke patients suffer from cognitive impairment three months post-stroke [1]. Even in the chronic phase (90 days to 2 years post-stroke), approximately a third of stroke survivors still suffer from cognitive impairment [2]. Importantly, current rehabilitation programs do not seem to significantly improve executive functioning [3], whereas these impairments are related to reduced functionality in instrumental activities of daily living.
One promising way to ameliorate these impairments is to use computer games as cognitive exercises. In a recent review by our group, we concluded that cognitive training in healthy elderly subjects may result in cognitive improvement, provided that it includes frequent switching between various training tasks [4]. Such cognitive flexibility training improved cognitive functioning even in tasks that were not the focus of training, that is, the effects of the training generalized to so called 'far transfer tasks' [5].
Transfer of training to cognitive domains such as executive functioning, and especially generalization of training effects to the patient's daily life functioning, is essential for clinical application of any rehabilitation technique. Moreover, effects of cognitive training may be largest in people who start at a low level of functional performance [6, 7]. Thus, it seems likely that cognitive flexibility training will result in significant improvements in cognitively impaired stroke patients. Several studies in healthy people observed changes in brain activity after intensive cognitive training, which correlated with training performance even if behavioral training effects were small [8–10]. This suggests that the training effects may leave visible traces in the brain. Against this background we planned the 'Training Project Amsterdam Seniors and Stroke' (TAPASS) study.
Aim of the study
TAPASS aimed to determine whether cognitive flexibility training could improve executive functioning in stroke patients, and if so, to investigate how changes in executive functioning were correlated with functional and structural changes in the brain. We expected that cognitive flexibility training improved objective executive functioning after stroke over and above improvements due to care as usual and spontaneous recovery. More so, we expected that cognitive flexibility training would result in more executive improvement compared to an active control condition, i.e. mock training.
To determine the neural correlates of executive improvements after cognitive flexibility training we performed resting-state functional Magnetic Resonance Imaging (fMRI), Diffusion Tensor Imaging (DTI), and gray matter imaging in part of the sample. We expected that cognitive improvement would be related to changes in brain activity and structure. In particular, we expected that resting-state brain activity and structural connectivity of stroke patients who received cognitive flexibility training converged to "normal", more so than brain activity and connectivity of those who did not receive this training.
Finally, we studied whether cognitive flexibility training was more beneficial for those with lower baseline executive performance (stroke patients compared to healthy adults), and whether this training was more beneficial in the post-acute or in the chronic phase post-stroke. We predicted that cognitive flexibility training would be more effective in stroke patients compared with healthy adults, and that it would be more effective in the post-acute phase than in the chronic phase post-stroke. We also explored which lesion characteristics (e.g., type of stroke, size and localization of lesion) and other variables (e.g., IQ, age, comorbidities, cognitive flexibility at baseline) predicted outcome.
Design
The design was a multicenter, double blind, randomized controlled trial (RCT) with an experimental intervention group, an active control group, and a waiting list control group. A schematic overview of the study design can be found in Fig.
1
. We aimed to include 120 participants.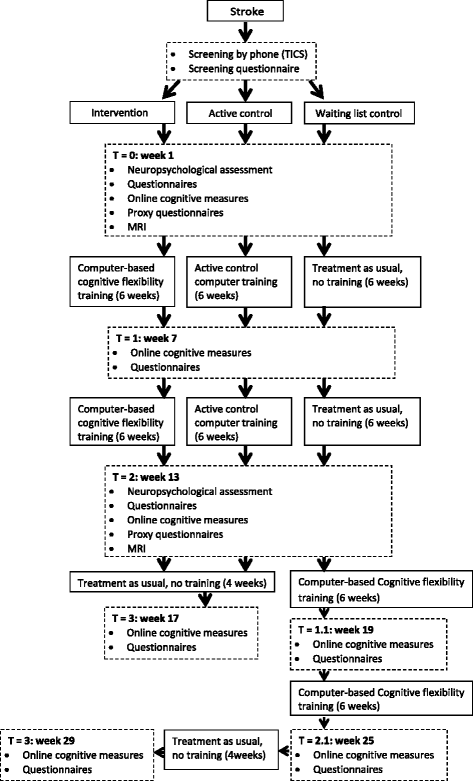 Discussion
Our study is one of the first to test the effect of a computer-based training aimed at improvement of executive functioning in stroke patients. Innovative features of the study are that cognitive flexibility is trained specifically, that it is being done via the Internet, and that the study is a double-blind RCT.
Several earlier studies have reported positive transfer effects of computer-based cognitive training in healthy elderly [38, 44, 45], but far transfer effects on tasks dissimilar to the training are not always found [9, 46]. Beneficial effects have also been reported in stroke or other acquired brain injury populations [6, 36, 41]. It remains, however, uncertain under what conditions computer-based training is effective.
The current training has not been proven effective yet in the healthy population or in stroke survivors. Nevertheless, it consisted of several factors that are likely important to induce far transfer effects [4]. Most importantly, the training included a switch element. The training did not only train one specific cognitive domain, but it also trained cognitive flexibility, which is a higher-level cognitive function, called upon in many tasks. As a result, it is likely that the training would lead to improvements in other, untrained tasks that do require cognitive flexibility.
Length of the training also seems to be important. Basak, Boot, Voss, and Kramer [44] found a transfer effect of their video game training of executive functions after 23.5 h of training, but not yet after 11 h of training. The current training contained 58 sessions of half an hour, adding up to a total of 29 h.
Another important factor for far transfer effects of training is that training should be adaptive [47]. Difficulty level of the intervention training was adapted to the performance of the participant. This was done after completion of one round of a training task.
Training may have a larger effect on everyday life functioning in stroke patients than in the healthy population. People who have suffered from stroke commonly have lower baseline cognitive functioning than healthy elderly. There is more room for improvement compared to healthy elderly [6, 7]. Also, stroke patients may be more motivated to improve their functioning precisely because they have lost much of their function.
There are several potential pitfalls in the current study. As the training and several outcome measure tasks were done online on the participant's own computer, computers may have had different settings (e.g., different screen sizes and, therefore, different size of training or tasks presentation). These settings could affect outcome measures. To minimize the effect of setting differences, participants were asked to do all measurements of the different time-points on the same computer. Furthermore, due to continuous changes within Internet browsers (e.g., changes of packages used for flash tasks), technical failures could have occurred. To reduce the risk of technical failures, the participants were advised to install comparatively stable Internet browsers (e.g., Mozilla Firefox or Safari). All instructions for installing browsers, starting the training, doing the online tasks etc. were thoroughly explained face to face and in an instruction booklet.
Motivation and fatigue of the participants possibly played a major role in this study. Participants were required to spend approximately 50 h on the TAPASS project. This is a large investment, which may have led to fatigue and loss of motivation. In turn, this may have negatively influenced the outcome measures. To avoid loss of motivation, participants were contacted by phone once a week or every two weeks. Positive feedback was given after completion of each training session. The assessment of the outcome measures was spread over three days, to reduce the influences of fatigue. Extra breaks were offered when needed.
One of the major strengths of this study is the design with two control groups. Most previous training studies either did not include a control group or provided a less motivating training as control condition [47]. This study included both an active control group and a waiting list control group. The active control group received a mock training we considered was motivating and visually stimulating. We checked this assumption in the exit questionnaire. This is important not only to keep participants motivated to train for 12 weeks, but also to ensure that participants remained blind to training condition. As the mock training could still have been quite challenging, this training may also have improved cognitive functioning. It was, however, not expected that improvement would transfer to tasks dissimilar to the training. In case both trainings turned out to be effective, the effects of spontaneous recovery and learning could be taken into account based on comparisons with the waiting list control group.
The training could be done at home and most assessments were also in-home. A large sample could, consequently, be acquired and a follow-up measurement could be done after four weeks. The large sample size is another strength of this study. In case of a null effect, the results would still provide valuable insights, as statistical power was sufficient to detect medium-sized effects. The results of this study were compared with the results of a parallel study of computer-based cognitive flexibility training in healthy elderly. We expected that those who have suffered from stroke and currently have cognitive complaints will have a lower cognitive baseline than healthy elderly. This study, thus, gives insight into the effect of different baseline cognitive abilities on training outcome.
Conclusions
There is a need for improvement of rehabilitation of executive functions in the stroke population. In case this training proves effective, the results of this study will provide an important contribution to the rehabilitation of executive impairments after stroke. This study additionally provides insights into the field of cognitive training as it not only looks at behavioral effects, but also at changes in the brain.
Abbreviation
ARSQ:

Amsterdam Resting-State Questionnaire
CFQ:

Cognitive Failure Questionnaire
CIS-F:

Checklist Individual Strength- Fatigue subscale
CPM:

Raven Coloured Progressive Matrices
DEX:

Dysexecutive Questionnaire
D-Kefs TMT:

Delis- Kaplan Executive Function System Trail Making Test
DSC:

Digit-Symbol-Coding
DSST:

Digit Symbol substitution Task
DTI:

Diffusion Tensor Imaging
fMRI:

Functional Magnetic Resonance Imaging
HADS:

Hospital Anxiety Depression Scale
IADL:

Instrumental activity of daily life scale
ICA:

Independent component analyses
MRI:

Magnetic Resonance Imaging
O-span:

Operation span
PASAT:

Paced Auditory Serial Addition Test
RAVLT:

Rey Auditory Verbal Learning Task
RCT:

Randomized controlled trial
SF-36:

Short Form Health Survey
TAPASS:

Training Project Amsterdam Seniors and Stroke
TICS:

Telephone Interview Cognitive Status
TMT:

Trail Making Test
ToL:

Tower of London
USER-P:

Utrechtse Schaal voor Evaluatie en Revalidatie- Participatie
VBM:

Voxel based morphometry
Declarations
Acknowledgements
We want to thank J.I.V. Buitenweg for the valuable discussion and contribution to the set-up of the study design and the master students for contributing to the data collection. This project is part of the research program "Treatment of cognitive disorders based on functional brain imaging" funded by the Netherlands Initiative Brain and Cognition, a part of the Organization for Scientific Research (NWO) under grant number 056-14-013.
Open Access This article is distributed under the terms of the Creative Commons Attribution 4.0 International License (http://creativecommons.org/licenses/by/4.0/), which permits unrestricted use, distribution, and reproduction in any medium, provided you give appropriate credit to the original author(s) and the source, provide a link to the Creative Commons license, and indicate if changes were made. The Creative Commons Public Domain Dedication waiver (http://creativecommons.org/publicdomain/zero/1.0/) applies to the data made available in this article, unless otherwise stated.
Authors' Affiliations
(1)
Department of Psychology, University of Amsterdam, Amsterdam, The Netherlands
(2)
Heliomare Research and Development, Wijk aan Zee, The Netherlands
(3)
Department of Psychiatry, VU University medical center, Amsterdam, The Netherlands