Correspondence

Open Access

Open Peer Review
This article has Open Peer Review reports available.
Diagnosis and treatment of late-onset Pompe disease in the Middle East and North Africa region: consensus recommendations from an expert group
Received: 24 March 2015
Accepted: 18 August 2015
Published: 15 October 2015
Abstract
Background
Pompe disease is a rare autosomal recessive disorder caused by a deficiency of the lysosomal enzyme alpha-glucosidase responsible for degrading glycogen. Late-onset Pompe disease has a complex multisystem phenotype characterized by a range of symptoms.
Methods
An expert panel from the Middle East and North Africa (MENA) region met to create consensus-based guidelines for the diagnosis and treatment of late-onset Pompe disease for the MENA region, where the relative prevalence of Pompe disease is thought to be high but there is a lack of awareness and diagnostic facilities.
Results
These guidelines set out practical recommendations and include algorithms for the diagnosis and treatment of late-onset Pompe disease. They detail the ideal diagnostic workup, indicate the patients in whom enzyme replacement therapy should be initiated, and provide guidance on appropriate patient monitoring.
Conclusions
These guidelines will serve to increase awareness of the condition, optimize patient diagnosis and treatment, reduce disease burden, and improve patient outcomes.
Keywords
Enzyme Replacement Therapy
Pompe Disease
Glycogen Storage Disease Type
Pompe Patient
Alglucosidase Alfa
Introduction
Pompe disease, also known as acid maltase deficiency (AMD) or glycogen storage disease type II (GSDII), is a rare autosomal recessive disorder of glycogen metabolism caused by insufficient activity of the enzyme acid alpha-glucosidase (GAA). There are two forms of the disease: infantile-onset Pompe disease (IOPD; aged <1 year with cardiomyopathy) and late-onset Pompe disease (LOPD; >1 year of age through to adulthood or <1 year without cardiomyopathy). The worldwide incidence of both forms of the disease is commonly reported to be 1 in 40,000 [1], however prospective trials suggest the incidence may be as high as approximately 1 in 9,000 [2, 3].
Myozyme® (alglucosidase alfa) was approved for the treatment of Pompe disease in Europe and the United States in 2006 and has changed the management of Pompe disease, improving the symptoms of the disease in many, but not all, patients [4]. Additionally, enzyme replacement therapy (ERT) with alglucosidase alfa extends life expectancy in patients with LOPD [5].
A number of guidelines exist for the diagnosis and treatment of LOPD [6–8]; however these do not address the challenges faced by the Middle East and North Africa (MENA) region in the diagnosis and treatment of LOPD, namely delayed diagnosis, access to diagnostic tools, and access to treatment. There is, therefore, a need for region-specific recommendations for the diagnosis and treatment of LOPD which assess the latest available literature and tailor it to the region with due consideration of local experiences and challenges. The objective of this paper is to provide clinical guidelines on the diagnosis and treatment of LOPD in the MENA region.
Methods
A panel of experts met to develop consensus recommendations to aid diagnosis and treatment of infantile- and late-onset Pompe disease in the MENA region. The panel of physicians from across the MENA region included experts from different specialties – adult and pediatric neurology, metabolic diseases, genetics, pediatric cardiology, and neuropathology – all with expertise in the diagnosis and/or management of Pompe disease.
A literature review was performed prior to the meeting. A search for relevant articles including randomized control trials, review articles, and most recent international guidelines on the diagnosis and treatment of LOPD was undertaken using PubMed. The search terms included: late onset Pompe disease, glycogen storage disease type II, lysosomal storage disorders, acid alpha-glucosidase deficiency, and acid maltase deficiency.
The panel critically analyzed and discussed these articles at the meeting. The validity, clinical relevance, and applicability of the evidence for LOPD in the MENA region were discussed. After considering the evidence, the panel achieved a consensus on a number of recommendations that are supported by best scientific evidence.
Background
Pompe disease was first characterized in 1932 by Joannes C. Pompe, who described glycogen accumulation in cardiac muscle in a 7-month-old girl who died [9]. Pompe disease was first categorized as GSDII by G.T. Cori in 1954 [10], and further understanding of the disease was achieved with the discovery of lysosomes in 1955 by Christian de Duve [11, 12]. In 1963, Henri Hers identified GAA as the enzyme that is deficient in Pompe patients and therefore responsible for Pompe disease [13].
Following the discovery of GAA deficiency as the cause of Pompe disease, a number of enzyme replacement trials have been conducted. In 1964, Baudhuin and colleagues intramuscularly injected an extract of the fungus Aspergillus niger, which was shown to contain GAA, into a patient with abnormal lysosomes; however the treatment did not demonstrate any appreciable change in the lysosomes [14].
In 1974, ERT using enzymes purified from a human source were administered to two patients with Gaucher's disease [15]. Exogenous glucocerebrosidase was found to cause a definite decrease in the quantity of accumulated lipids, but the results were largely disappointing. The first successful ERT of a lysosomal storage disorder in humans was achieved in 1991 when Barton and colleagues reported the results of infusion of macrophage-targeted human placental glucocerebrosidase into 12 patients with type 1 Gaucher's disease [16]. In the same year, the first successful in vivo study of GAA ERT was reported [17]. Van der Ploeg and colleagues reported that a human placenta-derived GAA delivered by a mannose 6-phosphate receptor-mediated ERT had resulted in cardiac uptake in mice, offering the potential for a treatment for Pompe disease.
This potential was realized in 2001 when the first clinical studies of ERT infusion in IOPD patients were published [18, 19]. These showed that recombinant human GAA (rhGAA) derived from either Chinese hamster ovary (CHO) cells or transgenic rabbit milk is capable of improving cardiac and skeletal muscle function. Longer term studies confirmed the tolerability, safety, and efficacy of ERT in Pompe disease [20, 21], resulting in the regulatory approvals of alglucosidase alfa for the treatment of Pompe disease in 2006 [22].
The first randomized controlled study of ERT in LOPD patients was published in 2010 [23] and demonstrated that alglucosidase alfa leads to stabilization of neuromuscular deficits as well as some degree of functional improvement [23, 24].
ERT with alglucosidase alfa is not a cure for Pompe disease, but it can greatly modify or attenuate the phenotype, improving clinical outcome, quality of life (QOL), and survival.
Epidemiology
The combined incidence of both forms of Pompe disease varies depending on ethnicity and geographic region, ranging from 1 in 14,000 to 1 in 600,000 reported in African American and Portuguese populations, respectively [25–27].
The worldwide incidence of both forms of the disease is commonly reported to be 1 in 40,000 [1]. The frequency of LOPD is estimated at 1 in 57,000 [28]. However, two prospective trials performed in the context of newborn screening challenge this. The incidence of LOPD in Taiwan based on a prospective newborn screening study is 1/26,466 [2] and the overall incidence of Pompe disease in Austria based on a prospective newborn screening study is 1/8,684 live births [3].
There are no late-onset incidence studies in the MENA region; however the prevalence of IOPD in Emiratis has been reported as 2.66 per 100,000 based on UAE experience from two centers and is likely much higher [29]. Additionally, the high degree of consanguinity in the region results in higher incidence of autosomal recessive diseases in general [30].
Pathophysiology
Pompe disease is a result of mutations in the
GAA
gene, which is located on the long arm of chromosome 17 (17q25.2-q25.3) [
31
,
32
] and encodes the 105-kDa GAA enzyme [
33
]. Mutations in the gene lead to deficiency in the lysosomal enzyme GAA, causing accumulation of lysosomal and non-lysosomal glycogen in multiple tissues [
34
]. Lysosomal enlargement and rupture, as well as autophagic accumulation, contribute to the progressive myopathy in the disease, with autophagic accumulation causing skeletal muscle destruction in LOPD (Fig.
1
).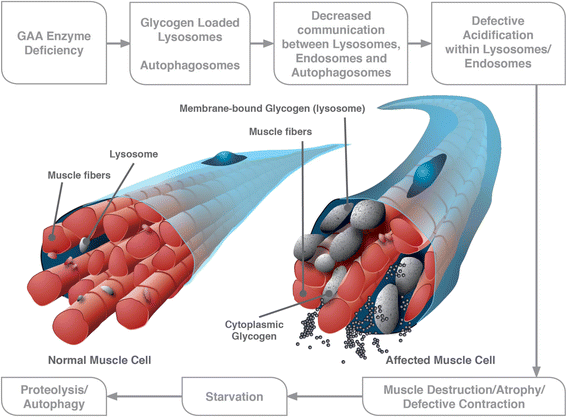 Due to the broad clinical spectrum of the presenting phenotype, a number of differential diagnoses for Pompe disease should be considered. These differential diagnoses and their features common to Pompe disease are summarized in Table
1
.
Table 1
Differential diagnosis of LOPD
| Differential condition | Common symptoms |
| --- | --- |
| Limb–girdle muscular dystrophy (LGMD) | Progressive muscle weakness in the pelvis, legs, and shoulders; elevated CK |
| Becker muscular dystrophy (BMD) | Progressive proximal muscle weakness, prominent quadriceps weakness, calf hypertrophy, elevated CK, cardiomyopathy |
| Selenoprotein N1-related myopathy | Spinal rigidity, respiratory failure, muscle hypotrophy |
| Myasthenia gravis | Ptosis, ophthalmoplegia, bulbar dysfunction, proximal muscle weakness, fluctuating course |
| Spinal muscular atrophy | Progressive proximal muscle weakness and atrophy, respiratory failure, postural tremor, mild elevated CK |
| Polymyositis | Unexplained muscle weakness with elevated CK |
| Glycogen storage diseases: IIIa (Debrancher deficiency/Cori), IV (branching enzyme deficiency/Anderson disease), V | Hypotonia, hepatomegaly and hepatic failure, muscle weakness with distal involvement, elevated CK |
| Danon disease | Hypertrophic cardiomyopathy, skeletal muscle myopathy |
| Mitochondrial myopathies | Hyptonia, hyporeflexia, hepatomegaly. Some forms with hypertrophic cardiomyopathy, muscle weakness, external ophthalmoplegia, elevated CK |
| Lipid storage myopathies | Fluctuating muscle weakness with respiratory involvement, sometimes bulbar weakness, elevated CK |
Clinical phenotype
LOPD has a wide spectrum of signs and symptoms [1]. While the age of symptom onset has been reported from <12 months of age to 70+ years, the average age at onset of symptoms is between 29 and 33 years, while the mean age at initial diagnosis is 36–43 years [35–38].
LOPD is a multisystem disorder which typically manifests as limb–girdle muscle weakness, respiratory symptoms, and progression to respiratory insufficiency due to diaphragmatic and intercostal muscle weakness. The phenotype can include varying degrees: limb–girdle muscle weakness, scapular winging, neck flexor weakness, abdominal wall musculature involvement, or a lordotic waddling gait [1]. Symptoms may include rigid spine syndrome (RSS), scoliosis, low body mass [38], and asymptomatic hyperCKemia [39]. Other symptoms may include asymmetrical ptosis, tongue weakness, and dysphagia [35, 38, 40, 41]. Myalgia and fatigue are important symptoms as they are sometimes the presenting complaint [35].
Cardiac symptoms are common in IOPD and while cardiac involvement in LOPD remains somewhat controversial with conflicting reports found in the literature, Wolff–Parkinson–White syndrome has been implicated. A study of 46 consecutive adult patients with LOPD suggests that major cardiac abnormalities are rare [42]. However, another study of the clinical and neurophysiological spectrum of 38 LOPD patients identified three subjects who suffered from arrhythmias due to Wolff–Parkinson–White syndrome despite no echocardiographic signs of cardiomyopathy [1]. Cerebral aneurysms have been reported as complications in LOPD patients, and may be increased in incidence over the general population, however this is not certain [43, 44].
Hearing loss is often described in classic IOPD patients. While it is rarer in LOPD, there have been reports of mild hearing loss due to stapedius muscle or cochlear involvement [45, 46].
Low bone mineral density, scoliosis, and osteoporosis have also been reported in LOPD patients. A study of 46 patients found that bone mineral density was significantly lower in Pompe patients than in healthy individuals, with 26 % of patients classified as having osteoporosis/low bone mass for chronological age; however this may be a consequence of weakness and reduced mobility, as seen in muscular disorders, and not specific for LOPD [47].
Recent studies have identified LOPD in both symptomatic patients with muscle weakness and patients presenting with presymptomatic hyperCKemia [48–50].
Diagnosis
With such a wide variation in age of onset and a non-specific symptoms complex, a high degree of clinical suspicion is necessary to diagnose patients with LOPD and a low threshold should be used for clinical screening with dried blood spot (DBS) testing. The diagnosis should be suspected on the clinical presentation and phenotype and the evaluation should then ensue.
Clinical evaluation
Creatine kinase
Serum creatine kinase (CK) is elevated in 95 % of patients with LOPD [51], however the range can vary from normal (60–305 IU/L) to 15 times the upper limit of normal. Concurrent elevation of alanine transaminase (ALT), aspartate transaminase (AST), and lactate dehydrogenase (LDH) from muscle sources are frequently detected [52]. Serum CK may be elevated in presymtomatic LOPD patients [48, 49].
Forced vital capacity
The forced vital capacity (FVC) should be performed in the upright and supine positions and can be done with a hand-held spirometer. In most normal subjects, FVC in the supine position is 5–10 % less than when upright; a drop of ≥10 % is suggestive of diaphragmatic weakness and a drop >30 % is associated with severe diaphragmatic weakness [53, 54].
Electromyography
A conventional electromyograph (EMG) may be normal in patients with LOPD, however studies suggest that approximately 70 % may have a myopathic EMG pattern [1]. Studying the more proximal muscles, including the paraspinal muscles, has been shown to be more likely to reveal abnormalities. In addition to typical myopathic features, myotonic discharges without clinical myotonia have also been described sometimes occurring only in paraspinal muscles [55]. In addition, fibrillation potentials, positive sharp waves, and complex repetitive discharges may be seen [41]. Nerve conduction studies in Pompe disease patients are typically normal [1].
Dried blood spot testing
When available, DBS testing for GAA activity is the preferred screening test for LOPD as it is a simple, inexpensive, and noninvasive assay [56]. Briefly, a blood spot obtained from the patient is assayed for GAA activity using spectrophoto-fluorimetry with recombinant GAA used as a calibrator for immuno-quantification [57]. The limitations of the DBS test include logistics, a lack of local facilities to perform the analysis, long turnaround times for testing in some regions of the world, and false-positive results.
A positive DBS is not diagnostic for LOPD and a second test should be performed to confirm the diagnosis. These confirmatory tests can include lymphocytes for GAA analysis, fibroblast cultures again assayed for GAA, gene sequencing, or muscle biopsy with or without GAA enzyme analysis. The diagnostic tests for LOPD are summarized in Table
2
.
Table 2
Summary of diagnostic tests for LOPD
| Test | Pompe presentation |
| --- | --- |
| Creatine kinase | Varies from normal to 15 times the upper limit of normal |
| Alanine transaminase and aspartate transaminase | Frequently elevated |
| Forced vital capacity | Reduced in most patients. A drop of ≥10 % in supine versus upright is suggestive of diaphragmatic weakness and a drop >30 % is associated with severe diaphragmatic weakness |
| Electromyography | Myopathic EMG may be present, particularly in proximal muscles such as the paraspinal muscles. Myotonic discharges without clinical myotonia, fibrillation potentials, positive sharp waves, and complex repetitive discharges may also be seen |
| Dried blood spot | GAA activity reduced |
Diagnostic dilemmas
It has previously been reported that diagnosis of Pompe disease is a diagnostic dilemma in itself due to the rarity of the disease and the non-specific phenotype [52]. A number of diagnostic dilemmas are faced in the region. Mutation-related dilemmas include the identification of new variants with an unknown significance for pathology which requires the use of clinical findings and other biochemical parameters for diagnosis. Other diagnostic dilemmas include a positive screening test and only one mutation by genetic testing and positive DBS with unusual clinical features. In these cases the gold standard of fibroblast culture is recommended.
Consensus recommendations
The experts agreed that the diagnosis of LOPD can be difficult, as the phenotype is heterogeneous and may resemble the clinical features of a number of other neuromuscular disorders; a high clinical suspicion was considered important for the diagnosis of this disease. Fig.
4
displays an algorithm for the diagnosis of LOPD as per the experts' recommendations. In patients who are symptomatic and have a known case and mutation within the family, investigation should begin with molecular testing.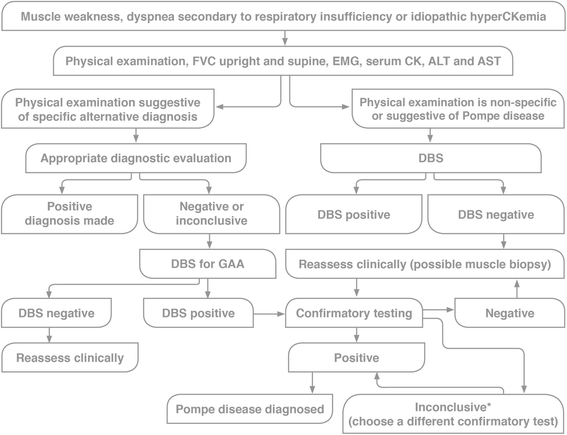 Muscle weakness, high serum CK values (up to 15-fold) and a decline in pulmonary function were considered by the experts as criteria for suspicion of LOPD. Consensus was achieved among the experts that a DBS screening test should be conducted in patients with unexplained weakness or suspected LOPD in the MENA region.
It was agreed that one of the following confirmatory tests should be conducted after obtaining a positive DBS screening test or when DBS is inconclusive and there is a high degree of clinical suspicion: enzymatic assay on lymphocytes or fibroblasts, genotyping, or muscle biopsy. GAA enzymatic analysis of fibroblasts was selected as the gold standard, although the logistics of this test were considered a limitation (Table
3
). The experts agreed and recommend that local facilities need to be developed in each country to perform the required testing.
Table 3
Summary of confirmatory tests for LOPD
Test

Description

Pompe presentation

Lymphocytes for GAA

GAA assayed in purified lymphocyte preparations

GAA activity reduced

Fibroblast cultures for GAA

GAA assayed in cultured fibroblasts from skin biopsy

GAA activity reduced

Genetic testing

Targeted mutational analysis, full sequence analysis, or deletion/duplication analysis

Pathogenic mutations may be detected

Muscle biopsy

Histology or immuno-histology of muscle biopsy samples

Vacuoles that stain positively for glycogen, with accumulation in the lysosomes and cytosol observed in the advanced stages of the disease

GAA activity reduced

May be normal or show non-specific changes
Treatment
Enzyme replacement therapy
ERT with alglucosidase alfa has shown disease stabilization or improvement in patients with LOPD. The Late-Onset Treatment Study (LOTS), which investigated the effect of alglucosidase alfa in 90 LOPD patients, identified improved walking distance and stabilization in pulmonary function in the first 78 weeks of treatment, which was maintained at 104 weeks [23].
In a systematic literature review of LOPD therapy, it was reported that in 368 patients from 21 studies, at least two-thirds were stabilized or had improved CK levels and muscular and/or respiratory function following treatment with alglucosidase alfa [63]. Furthermore, alglucosidase alfa was reported to be well tolerated, with most adverse events categorized as mild to moderate infusion-related reactions. ERT with alglucosidase alfa has been shown to increase life expectancy and survival in IOPD and LOPD [5, 64].
A key challenge in the MENA region is access to treatment and availablilty of alglucosidase alfa.
Consensus recommendations
Initiation
After a diagnosis of Pompe disease by DBS screening and a confirmatory secondary test such as enzyme testing or genetic studies, treatment with alglucosidase alfa should be initiated depending on the status of the patient (Table
4
) [
6
,
7
,
65
].
Table 4
Recommendations for initiation of alglucosidase alfa ERT based on patient status
| Patient symptomatology | Recommendations for alglucosidase alfa ERT |
| --- | --- |
| Presymptomatic with no signs or symptoms | ERT not necessary. Patient should be monitored every 6 months and ERT initiated if there is evidence of clinical deterioration |
| Presymptomatic with abnormal muscle imaging or abnormal muscle biopsy | ERT should be considered on a case-by-case basis |
| Symptomatic with signs or symptoms | ERT should be initiated in patients with muscle weakness or reduced pulmonary function |
| Patients with markedly advanced disease, who have lost ambulation and are ventilation-dependent | ERT should be administered for 1 year with evaluation of effectiveness |
In presymptomatic patients with no signs or symptoms, ERT is not necessary. However these patients should be monitored every 6 months and treatment with alglucosidase alfa initiated if there is evidence of clinical deterioration in muscle or pulmonary function. Presymptomatic patients who have abnormal muscle imaging or muscle biopsy, and patients without clinical signs but with MRI abnormalities in muscles not traditionally tested (e.g. paraspinal muscles), should be considered for treatment with alglucosidase alfa on a case-by-case basis.
ERT with alglucosidase alfa should be initiated in patients with symptoms or signs of Pompe disease, including early signs of muscle weakness or respiratory insufficiency. ERT should be considered irrespective of whether the patient is using noninvasive ventilation. In advanced patients with severe signs or symptoms, alglucosidase alfa should be administered for 1 year and the effectiveness of the treatment monitored. If patients display a stabilization or improvement in symptoms, ERT should continue. Continuation of ERT in other patients should be considered on a case-by-case basis. It should be noted that there are no randomized controlled trials to display efficacy of ERT in advanced patients, however there are some data in the literature showing some benefit in such patients.
The recommended dosage of alglucosidase alfa is 20 mg/kg body weight administered every 2 weeks as an intravenous infusion [66]. Total infusion volume is determined by patient body weight and should be administered over approximately 4 hrs. Infusion rates should be increased in a step-wise manner, with an initial infusion rate of 1 mg/kg/hr which can be increased by 2 mg/kg/hr every 30 mins until patient tolerance is established, up to a maximum rate of 7 mg/kg/hr.
Anaphylaxis and severe allergic reactions have been observed in patients during, and up to 3 hrs after, alglucosidase alfa infusion. Therefore, it is important that appropriate medical support, including cardiopulmonary resuscitation equipment, is readily available during administration. In the event of anaphylaxis or other severe allergic reactions, immediate discontinuation of administration should be considered and appropriate medical treatment should be initiated. Patients should also be monitored for the development of systemic immune-mediated reactions involving skin and other organs while receiving alglucosidase alfa.
Where it is appropriate and the facilities exist, the goal should be infusions at a local center. Transition of patients to home therapy after 6 months of therapy in an infusion center can be considered based on clinical judgment. This may not be appropriate in patients who have experienced adverse effects due to ERT.
Monitoring
Patients with LOPD undergoing ERT with alglucosidase alfa should be clinically monitored every 6 months with the tests described below. Ideally the patients should be assessed by the same examiner at the same time of day (morning or afternoon) to decrease confounding variables. Also the patient should be encouraged to give their best effort. If the patient has experienced a recent intercurrent illness, the assessment should be postponed to allow sufficient recovery to baseline.
Algorithm for treatment of LOPD
In asymptomatic patients with a confirmed diagnosis of Pompe disease, the experts recommended conducting PFTs and muscle strength tests; close monitoring for objective signs and symptoms every 6 months was also recommended (Table
5
). Upon onset of signs or symptoms, the experts recommended commencement of ERT with alglucosidase alfa (Fig.
5
).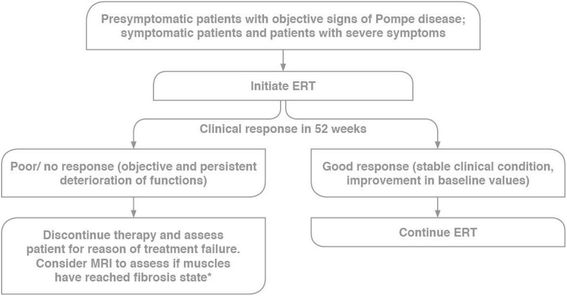 Treatment failure
The experts defined treatment failure as objective and persistent deterioration of functions following 52 weeks of therapy. Evaluation should include physical examination, assessment for alternative etiologies of disease progression (e.g. hypothyroidism, vitamin D deficiency), laboratory studies, muscle MRI, GAA antibody titers, and possible muscle biopsy. In non-responders, treatment should be discontinued and progress monitored if an alternative explanation is not determined. Monitoring should be continued after ERT discontinuation. Restarting ERT should be considered if the rate of deterioration increases after discontinuation of ERT. Individualized therapeutic decisions such as high-dose ERT are at the discretion of the treating physician.
Management of components of LOPD
Future therapies for LOPD
Discussion
This consensus manuscript is the first to provide region-specific guidelines for the MENA region on the diagnosis and treatment of LOPD. They take into account the challenges that are unique to the region; namely delayed diagnosis, access to diagnostic tools, and access to treatment. Considering that the prevalence of LOPD in the region is at least as high as in other countries, and is likely to be higher, the publication of regional guidelines serves to facilitate the prompt diagnosis, appropriate treatment, and proper monitoring that will improve survival and patient outcomes.
There is a lack of awareness of LOPD in the region, which potentially leads to missed cases, delayed diagnosis, and delayed treatment. There is therefore a need to improve the knowledge of physicians and adult neurologists so that they are aware of LOPD as a potential differential diagnosis in patients presenting with limb–girdle disease.
Another challenge faced within the region is the lack of patient education. The authors are aware that there is a reluctance of patients to seek medical attention in the early stages of the disease, which leads to delayed diagnosis and treatment and poor patient outcomes. This is potentially associated with disease stigma and denial of the disease, which also result in a lack of discussion within families and a missed opportunity for family screening. Another patient challenge in the region is the refusal of lifelong treatment or non-compliance with physician recommendations, especially if the disease is mild in severity. Patients need to be educated to be aware of the disease and the need to seek prompt medical attention.
The authors hope that dissemination of these guidelines will assist healthcare professionals in achieving prompt diagnosis, appropriate treatment, and proper follow-up of LOPD patients in order to reduce the burden of the disease.
Abbreviations
6MWT:

6-minute walk test
AAV:

Adeno-associated virus
ALT:

Alanine aminotransferase
AMD:

Acid maltase deficiency
AST:

Asparate aminotransferase
BMI:

Body mass index
BPAP:

Bi-level positive airway pressure
CHO:

Chinese hamster ovary
CK:

Creatine kinase
DBS:

Dried blood spot
DEXA:

Dual-energy X-ray absorptiometry
ECG:

Electrocardiogram
EET:

Enzyme enhancement therapy
EMG:

Electromyograph
ERT:

Enzyme replacement therapy
FVC:

Forced vital capacity
GAA:

Acid alpha-glucosidase
GI:

Gastrointestinal
GSDII:

Glycogen storage disease type II
HHD:

Hand-held dynamometry
HSAT:

High, sustained antibody titer
IOPD:

Infantile-onset Pompe disease
LDH:

Lactate dehydrogenase
LOPD:

Late-onset Pompe disease
LOTS:

Late-Onset Treatment Study
LVH:

Left ventricular function
MENA:

Middle East and North Africa
MGA:

Maltase gluco-amylase
MMT:

Manual muscle testing
MRC:

Medical Research Council
MRI:

Magnetic resonance imaging
PFT:

Pulmonary function test
QMT:

Quantitative muscle testing
QOL:

Quality of life
rhGAA:

Recombinant human GAA
RSS:

Rigid spine syndrome
SF36:

Short Form 36.
Declarations
Acknowledgements
Medical writing support in the development of this manuscript was provided by Dr Marcus Corander of Choice Healthcare Solutions, and funded by Genzyme, a Sanofi Company. Genzyme reviewed the manuscript and provided comments for author consideration. The authors would like to thank Dr Dina El-Shafei of Genzyme for her initiation and support of the MENA Working Group that facilitated the process of the guideline manuscript development.
Open Access This article is distributed under the terms of the Creative Commons Attribution 4.0 International License (http://creativecommons.org/licenses/by/4.0/), which permits unrestricted use, distribution, and reproduction in any medium, provided you give appropriate credit to the original author(s) and the source, provide a link to the Creative Commons license, and indicate if changes were made. The Creative Commons Public Domain Dedication waiver (http://creativecommons.org/publicdomain/zero/1.0/) applies to the data made available in this article, unless otherwise stated.
Authors' Affiliations
(1)
Department of Pediatrics, College of Medicine and Health Science, United Arab Emirates University, Al-Ain, United Arab Emirates
(2)
King Abdullah International Medical Research Center, King Saud Bin Abdulaziz University for Health Sciences, NGHA, Riyadh, Kingdom of Saudi Arabia
(3)
Prince Mohammed Ben Abdulaziz Hospital, MOH, Riyadh, Kingdom of Saudi Arabia
(4)
Neurology Department, National Neurosciences Institute, King Fahad Medical City, Riyadh, Kingdom of Saudi Arabia
(5)
Johns Hopkins Aramco Healthcare, Pediatrics Services Division, Dhahran, Kingdom of Saudi Arabia
(6)
Medical Genetics And Metabolic Consultant, MCH, Jeddah, Kingdom of Saudi Arabia
(7)
Department of Neurosciences, MBC 76, King Faisal Specialist Hospital and Research Centre, Riyadh, Kingdom of Saudi Arabia
(8)
Department of Neuroscience, MBC J-76, King Faisal Specialist Hospital and Research Center, Jeddah, Kingdom of Saudi Arabia
(9)
Department of Pediatrics, Division of Child Neurology, Mafraq Hospital, Abu Dhabi, United Arab Emirates
(10)
KidsHeart: American Fetal & Children's Heart Center, Dubai Healthcare City, Dubai, United Arab Emirates
(11)
Pediatric Department, Jahra Hospital, Ministry of Health, Qadisiya, Kuwait
(12)
Department of Neurology, Tehran University of Medical Sciences, Shariati Hospital, Tehran, Iran
(13)
Pediatric Pathology Research Center, Mofid Children Hospital, Shahid Beheshti Medical University (SBMU), Tehran, Iran
(14)
Pediatric Neurology and Neurometabolic Division, Cairo University Children Hospital (Abo el Reesh), Cairo, Egypt
(15)
Pediatrics and Pediatric Neurology, Benghazi University, Benghazi, Libya
(16)
Department of Pediatrics, Qatif Central Hospital, Dammam, Kingdom of Saudi Arabia
(17)
Pediatric Neurology Research Center, Mofid Children Hospital, Shahid Beheshti Medical University (SBMU), Tehran, Iran