Debate

Open Access

Open Peer Review
This article has Open Peer Review reports available.
Neuroregeneration in neurodegenerative disorders
Received: 5 March 2011
Accepted: 23 June 2011
Published: 23 June 2011
Abstract
Background
Neuroregeneration is a relatively recent concept that includes neurogenesis, neuroplasticity, and neurorestoration - implantation of viable cells as a therapeutical approach.
Discussion
Neurogenesis and neuroplasticity are impaired in brains of patients suffering from Alzheimer's Disease or Parkinson's Disease and correlate with low endogenous protection, as a result of a diminished growth factors expression. However, we hypothesize that the brain possesses, at least in early and medium stages of disease, a "neuroregenerative reserve", that could be exploited by growth factors or stem cells-neurorestoration therapies.
Summary
In this paper we review the current data regarding all three aspects of neuroregeneration in Alzheimer's Disease and Parkinson's Disease.
Keywords
Nerve Growth FactorNeural Precursor CellConserve Dopamine Neurotrophic FactorPolysialylated Neural Cell Adhesion MoleculeSynaptic Plasticity Induction
Background
Adult neuroregeneration is a complex concept, beyond the common knowledge of neurogenesis that also comprises endogenous neuroprotection leading to neuroplasticity and neurorestoration -a therapeutical approach of implantation of viable cells (Figure
1
). Regeneration in the central nervous system (CNS) implies that new neurons, generated either through proliferation of endogenous stem/progenitor cells or by administration of exogenous stem/precursor cells with potential to substitute for lost tissue, will differentiate, survive, and integrate into existing neural networks [
1
]. Among the three components of neuroregeneration previously mentioned, neuroplasticity was the first one put forward, by Ramon y Cajal, in 1894: "associations already established among certain groups of cells would be notably reinforced by means of the multiplication of the small terminal branches of the dendritic appendages and axonal collaterals; but, in addition, completely new intercellular connections could be established thanks to the new formation of [axonal] collaterals and dendrites." [
2
]. However, Ramon y Cajal discards, in the same paper, the possibility of cell renewal: "it is known that the nerve cells after the embryonic period have lost the property of proliferation". Adult neurogenesis was proposed by Joseph Altman in the 1960's, in a series of articles involving tritiated thymidine retaining cells in the rat brain [
3
–
5
]. The newly emerged concept was a controversy until the early 1990s, when several reports [
6
–
9
] proved beyond doubt the existence of adult neural stem cells.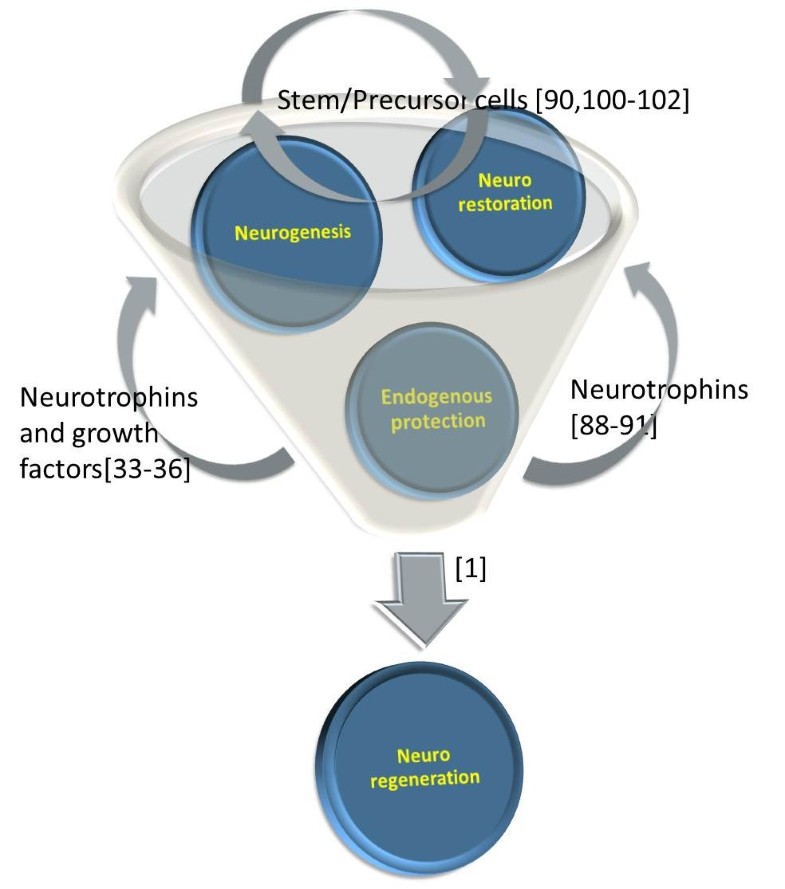 The concepts of neuroplasticity and neural stem cells led to the idea of neurorestoration as an alternative therapy for neurodegenerative disorders such as Alzheimer's Disease (AD) and Parkinson's Disease (PD), both characterized by neuronal loss. Our review will attempt to answer the question "Is there any neuroregeneration in neurodegeneration?" taking into account the three concepts mentioned above.
Summary
As expected, most reports incline towards progressive impairment of neuroregeneration resources in AD and PD brains, as proven on human post-mortem analysis, animal models and in vitro studies. However, due to increased amount of evidence that proper stimulation or supply of growth factors restores some of the cognitive loss and ameliorates behavioral skills, we hypothesize that the brain possess, at least in early and medium stages of disease, a "neuroregenerative reserve", that may be and begins to be, targeted as a therapeutical perspective.
List of abbreviations
AD:

Alzheimer's Disease
PD:

Parkinson's Disease
NPCs:

neural precursor cells
PSA-NCAM:

Polysialylated Neural Cell Adhesion Molecule
BDNF:

Brain Derived Nerve Factor
TrkB:

tropomyosin-related kinase receptor B
NGF:

Nerve Growth Factor
GDNF:

Glial Derived Nerve Factor
Declarations
Acknowledgements
This paper is supported by the Sectorial Operational Programme Human Resources Development (SOP HRD), financed from the European Social Fund and by the Romanian Government under the contract number POSDRU/89/1.5/S/64109 and by the Executive Unit for Financing Higher Education, Research, Development and Innovation - Romania (UEFISCDI), Program 4 (Partnerships in Priority Domains), grant nr. 41-013/2007.
Authors' Affiliations
(1)
Department of Cellular and Molecular Medicine, 'Carol Davila' University of Medicine and Pharmacy, School of Medicine, Bucharest, Romania
(2)
Laboratory of Molecular Medicine, 'Victor Babeş' National Institute of Pathology, Bucharest, Romania
(3)
Department of Neurology, 'Iuliu Hatieganu' University of Medicine and Pharmacy, Cluj Napoca, Romania
(4)
Department of Neurology, University Hospital Bucharest, 'Carol Davila' University of Medicine and Pharmacy, Bucharest, Romania
Copyright
© Enciu et al; licensee BioMed Central Ltd. 2011
This article is published under license to BioMed Central Ltd. This is an Open Access article distributed under the terms of the Creative Commons Attribution License (http://creativecommons.org/licenses/by/2.0), which permits unrestricted use, distribution, and reproduction in any medium, provided the original work is properly cited.